Advent 1: Awaken to the Promise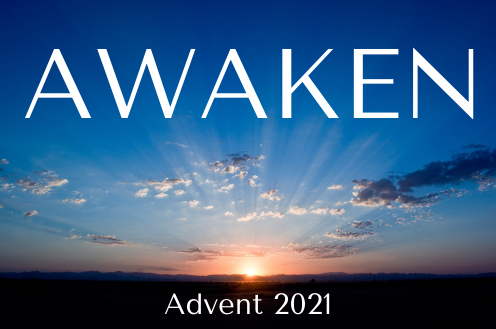 Psalm 25:1-10, Jeremiah 33:14-16, Luke 21:25-36
During the season of Advent, it is as if time is no longer linear. Instead, time morphs into something that is hard to grasp and even more challenging to describe. We look forward to a birth that has already occurred two thousand years in the past. We read prophetic passages from centuries prior to Jesus' birth. We read Jesus' actual words, about the promise of his future coming, as a means of preparation for celebrating Jesus' birth. We imagine a future that was promised more than two thousand years ago, and we wait with hope for its arrival. Past, present, and future are held together. We remember that God is faithful as we celebrate the already and not yet, promises fulfilled and promises yet to come, that Christ is born and Christ will return.
But it's not all about what happened in the past or what will happen in the future. Advent is about what God is doing, here and now. It is about the work of God within us, as we remember God's faithfulness and anticipate the future. It is about being awake to God's presence with us at all times, in all things. It is about who we are becoming in this season. As we pay attention to God's work in our everyday lives and in the world around us, God is working within us, changing us from the inside out.
In Advent, God is doing a new thing. What is that new thing? God is fulfilling God's promise of making all things new by making us new and remaking us every day, through grace. Another word for that is sanctification. It is happening within each of us and within the community of faith. These are signs of God's kingdom here on earth, right now. And as we hope for a future that we cannot see, we do so with faith because of the promises God has made.
You may want to consider choosing a spiritual practice for this week that will enable you to practice awakening to God. Here are some possibilities to consider:
Practice contemplative walking. Take a walk without the goal of exercising or going a certain distance or direction. Walk slowly, being attentive to signs of God's promises in the natural world and following God's leading.
Be intentional as you make plans during this season. As you plan your calendar, make lists, and decide how to spend your time, remember what Advent is for. Be sure to leave room to slow down and practice becoming aware of God's presence.
Pray Psalm 25:1-10. Don't just read it; pray it. Try praying the psalm every day this week. Consider praying it in a different translation each day, to deepen your practice.
Journal about the word "promise" and what it means to you. How have you experienced God's promises in the past? How are you experiencing them in this particular season?
This is an excerpt from a study I created for my church for Advent 2021. During this season, I will post weekly on the theme, "Awaken." I pray that as we journey through Advent, we will all awaken to what God is doing in and around us. If you missed the introduction/overview, you can find it here.