Learning from Virtual Kindergarten
Last week was my daughter's last day of Kindergarten. To conclude the school year, each child was recognized for their unique contributions to the class and then they celebrated outside with sidewalk chalk and bubbles. It was a lot of fun!
I should clarify that this occurred within our home, because our daughter attended Kindergarten virtually this entire school year due to the COVID-19 pandemic. She and 19 of her friends logged on every day with their teacher, all from their own homes. They have never seen one another in person or played together, but they are friends. They are a community that encourages one another. I am amazed that friendships have been formed and such supportive community has developed among 5-and-6-year-olds, solely online. I had high hopes, but not high expectations, for virtual Kindergarten back in August. Virtual Kindergarten far exceeded my expectations. My daughter has learned and grown this year, but so have I. It has been a joy and a privilege to be a fly on the wall in her Kindergarten class.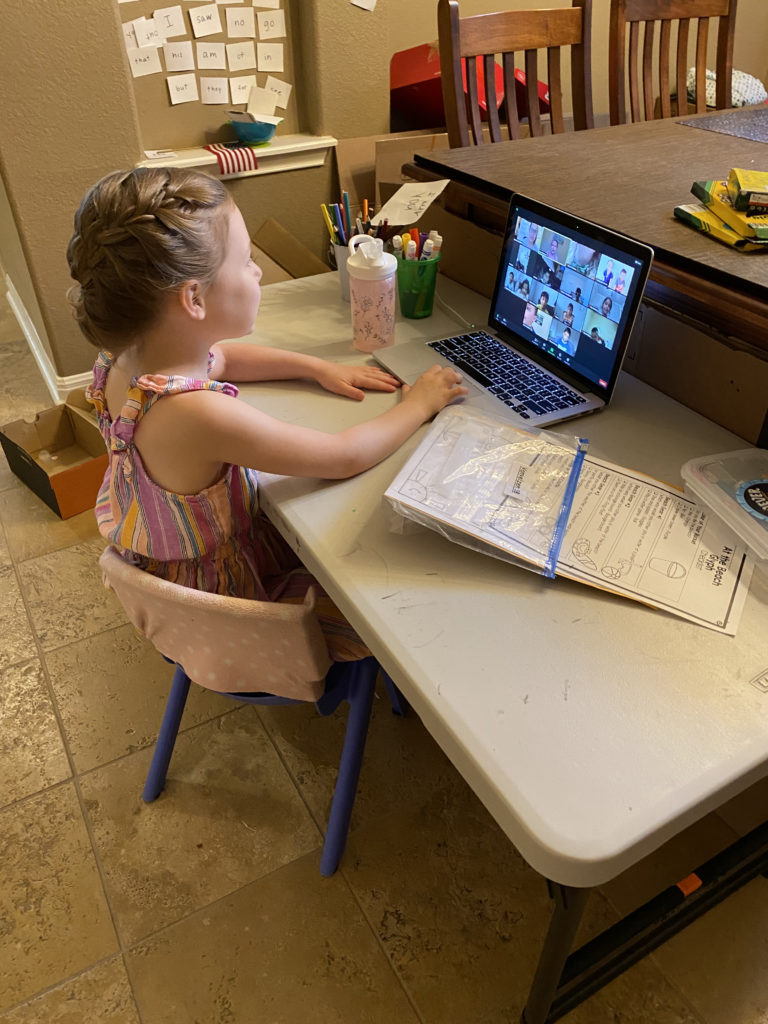 While Robert Fulghum has already written a classic on how our learnings in kindergarten apply to the rest of our lives, I want to expand that concept in relation to virtual Kindergarten. The list below encompasses lessons from virtual Kindergarten that are important reminders for adults, here and now, in the 21st century.
We all need to know how to use the mute button. If 5 and 6-year-old children in Kindergarten can learn to mute/unmute themselves and wait their turn to speak, adults should be able to do the same. Yes, on Zoom, but also, on social media and during in-person conversations. In many arenas these days, it feels as if the mute button is broken. If adults simply employed the mute button appropriately, our social and political discourse, as well as our relationships, would all improve. We would all benefit from more listening and less talking.
Brain breaks, play, and moving our bodies is essential to being able to think and do our work well. Have you ever sat in Zoom (or in-person) meetings for hours on end, without taking a break? It's miserable. Our daughter's school was intentional about designing a schedule for kindergarten that incorporates plenty of screen-free time and brain breaks throughout the day. Even while on Zoom, her teacher plans activities that involve standing up and using their bodies. I've learned that taking regular breaks away from screens – to go outside, to move my body, to play – transforms my ability to work. It increases my productivity, even if my total work time decreases. Give it a try!
Paying attention to and naming our feelings is an essential life skill. Every day in Kindergarten, they talk about feelings. They read books and learn songs about feelings. They practice techniques for calming their bodies. They take turns naming their feelings. They identify the feelings of characters in books. Why all this effort toward identifying feelings? Probably because emotional intelligence is essential. We can probably all name an adult who would benefit from increased awareness of their own feelings and emotions. The last year has been a roller coaster of emotions due to the pandemic, the election, natural disasters, plus the specific events in our personal and family lives. Naming our feelings provides perspective and can help us move through difficult moments in a healthier way, for both children and adults. Virtual kindergarten has reminded me that being able to name my feelings in is vital to my own functioning and self-management and has a positive effect on relationships as well.
Perseverance and confidence are the keys to success. Dozens of times every day, I hear a child say "I don't know how to…" or "I can't…" and the teacher's response is always "Try your best! Never give up!" The focus is not on perfection, but on perseverance and believing you can do it. Kindergarten today is what first grade was when I attended elementary school in the early 1990's. Children are learning and integrating challenging tasks. Guiding our daughter through her assignments has taught me that doing things in small chunks is important, especially when trying something new or challenging. For example: write one sentence a day, and by the end of the week, you have a 5-sentence short story (when it seemed impossible on Monday). That's what perseverance looks like.
There are multiple routes to an endpoint. Having permission to get the work done in whatever way works best for our child was a game-changer. If writing with your finger on an iPad is hard, write it on paper and then upload a picture of it. Having the ability to decide the best approach for our child's strengths and learning style greatly reduced our daughter's resistance to completing assignments. Also, I weas reminded that working more slowly or in a different manner than others is not necessarily an indication of intelligence or ability. If you're beating your head against the wall trying to get something done in a certain way or timeframe, be creative and find another way to reach the end goal. A different approach might change everything.
Mistakes grow your brain. In Kindergarten, students are learning the basics: how to read and write, the foundations of math. It doesn't all come naturally. It can be quite laborious to read a book out loud to someone, to write a sentence and sound out each individual word or to translate a math word problem into an equation. When the kids become upset or frustrated about making a mistake, our daughter's teacher says: "Mistakes grow your brain!" YES. As adults, we would do well to remember this, to acknowledge and learn from our mistakes, so that we continue to grow.
If the plan doesn't work, make a new one. Flexibility and adaptability are essential to doing anything with children (well, really, anything at all involving humans)! We have all learned in the last 15 months that plans are only figurative. We must be flexible and adaptable at all times. When my daughter's teacher's video or screen sharing doesn't work as planned, she transitions seamlessly to something else, and even turns it into a lesson for the kids on being flexible. It's never too early to learn these important skills!
Be assertive! One of the things our daughter has had to learn in virtual kindergarten is to be assertive and ask for what she needs. With limited screen space, sometimes the teacher doesn't see her when she's asking to go to the bathroom or raising her hand to ask a question. She has had to learn to speak up for herself. I think I was much older before I learned this lesson. It is imperative to recognize what we need, name it, and ask for it (while keeping the mute button in mind). It is also important to do this on behalf of others who are unable to speak up for themselves.
4 on the floor. All 4 legs of the chair, that is. It can be very painful to fall out of your chair onto a hard tile floor. Just like we need to look both ways before crossing the street, stay alert for obstacles when riding our bikes, and refrain from looking at our phones while driving, we need to keep all 4 legs of our chair on the floor. It's an early lesson with relatively minor consequences that can help us learn the skills we need later in life to keep ourselves and others safe.
If you make a mess, clean it up. Some days, it looks as if a tornado has passed through our dining room, where our daughter attends school. Markers, crayons, tiny pieces of paper, and dirty socks litter the floor. Her desk is covered in papers for various subjects. She gets frustrated that she can't find anything. We have worked with her on re-setting her space at set times – putting everything where it belongs, whether in a folder, her school box, the recycling, or the hamper. She feels more calm and able to work when her space is clear and organized. What if adults cleaned up after themselves, especially in public spaces? If we all took responsibility for our corner of the world, things might be different.
Wonder. Ask questions. Explore the world. Five and six-year-old children are really good at this. Their curiosity is not easily sidetracked by agendas and to-do lists, as often happens with adults. In fact, when a child is in the midst of imaginative play or investigating something interesting, if asked to clean up, they may throw a fit! One example: our daughter had a science assignment to take pictures of different types of rocks and varying uses for rocks near our house. She made it her personal challenge to figure out how many different types of rocks were on our block and was engaged in it for almost an hour! I was simply along to keep her safe while she wandered and photographed with the iPad. We saw so many things I had never noticed before, on the streets we walk nearly every day. Try following a young child around for a while, letting their curiosity lead you both. See what you discover together, and what you learn about yourself!
While it may seem that Kindergarten is about academic basics, perhaps even more important is the foundation composed of self-responsibility, emotional intelligence, perseverance, self-confidence, flexibility, and learning from mistakes. Imagine what the world would be like if everyone (especially adults), knew these things – deep in their bones – and practiced them in their work and personal lives. Which of these life skills do you need to brush up on or pay particular attention to today?