Lectio Divina
This post is part of a series of reflections in response to the spiritual practices in Beth A. Richardson's book Walking in the Wilderness: Seeking God During Lent.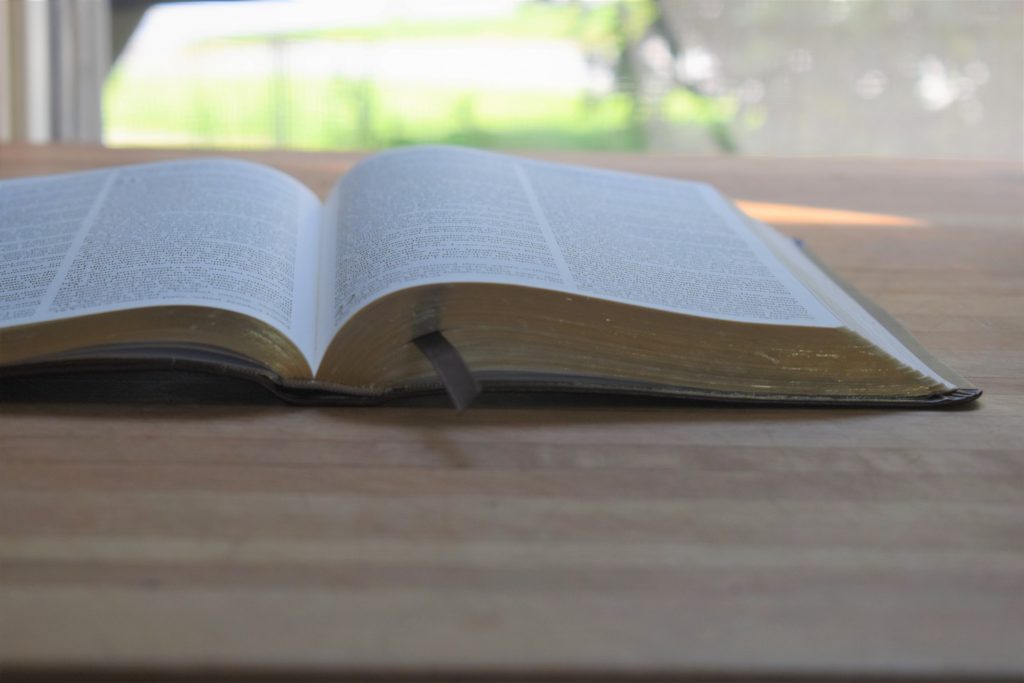 Lectio Divina is a spiritual practice of "divine reading." Beth A. Richardson says "Lectio Divina invites the reader to interact with the text using the eyes and ears of the heart by asking the question, 'What is the Holy One saying to me in this passage?'" Helpfully, Richardson explains that "in Lectio Divina the scripture is read for formation rather than information."
I have experienced the formational aspect of Lectio Divina myself. When I was first introduced to Lectio Divina, I was in an intense phase of reading scripture for information. As a college religion major, I was required to read large portions of scripture at a time to prepare for class. In order to write my papers and prepare for exams, I needed to be able to zoom out to look at the narrative arc of a text or the entirety of a biblical book in order to dissect a short passage. I was required to read commentaries and cross-reference, to use the study tools available to help me interpret the text. 
I found that when I was reading large portions of scripture regularly for my academic work, my personal scripture reading became very focused. I found myself reading one verse, or maybe a few more, per day. I read this tiny portion of scripture and spent time contemplating, without using study tools. I retrospect, I was intuitively doing the opposite of what my academic work required because that's what my soul needed. This is when I encountered Lectio Dvina. I don't remember how I learned about it or who shared it with me. What I do know is that this practice of divine reading and listening to the text was exactly what I needed at the time. I was already asking the question: "What is God saying to me in this moment?" And this is precisely the question Beth A. Richardson says we are asking when we engage in Lectio Divina. In contrast to my academic studies, where I was primarily focused on "what are the possible meanings of this text, within the historical and canonical context?" I was instead asking God what God had to say to me, in my life, at that time. 
The first time I remember practicing Lectio Divina in a group setting was in my first year of seminary. All M. Div. students were required to be part of a spiritual formation group, led not by seminary faculty (aka: our professors), but by local clergy. Our leaders were people who had been through seminary, and now served in the local church, those who knew the gifts and challenges of a seminary education as well as the realities we would face as we fulfilled our future callings. My group leader felt that Lectio Divina was an important practice for future clergy – not for our work (although, it certainly could be helpful) – for our personal spiritual formation. Our leader regularly led us through Lectio Divina during our group meetings. At first, our texts for Lectio Divina were scripture passages. Then, he invited us to contemplate religious art. He shared poems. He encouraged us to practice Lectio Divina with the front page of the newspaper. He shared music for an auditory version called Audio Divina. Because of his expansive view of spiritual practices and holy "texts," I encountered God in new and unexpected ways. 
While I have not practiced it regularly, I have returned to Lectio Divina again and again over the last 15 years. I've always found it helpful as a means of discerning God's voice in scripture, and in other texts. It focuses my prayer on scripture and invites me to be open to receiving what God might say. However, I haven't practiced Lectio Divina in while…until this week.
This was an odd week to return to focusing on Lectio Divina, because I was on a family vacation. I have 2 young children, and while time to myself is *always* in short supply, the lack of routine and more compact living arrangements on vacation make it nearly impossible to find time alone. However, I found myself in a contemplative state of mind this week, paying more attention to the world and the people around me, asking God "What are you saying to me through this?" I found that this contemplative mindset enabled me to be more open to God in my daily life.  
Additionally, I did engage in the practice of Lectio Divina twice this week. Once, with Psalm 63:1-4 during which I found myself truly praying the psalm and repeating the phrase "your steadfast love is better than life" (v. 3a in the NRSV version) over and over in praise to God. I also practiced Lectio Divina with 2 Corinthians 5:16-18. I chose this passage because I know it well. God led me to contemplate humanity and my own human-ness. I was reminded that Christ gave us the ministry of reconciliation, and God brought to mind a situation in which I am called to be a catalyst for reconciliation between two people who are struggling to acknowledge and accept one another's full humanity.
These two experiences are representative of my experience of Lectio Divina over the years. Sometimes, I simply hear a word or phrase that sticks with me. Other times, I hear God speaking or calling me in a direction I did not anticipate. I am grateful for this practice – now and throughout my life – as a means of helping me to draw near to God and to ask what God is saying to me in a given moment, whether the "text" is scripture, artwork, music, secular writing, or an event in my own life. God is always speaking, but am I listening? Lectio Divina helps me to listen.