Tomatoes for Epiphany
I've never eaten homegrown tomatoes during the season of Epiphany – until this year. Tomatoes are usually abundant in summer. Even in Texas' lengthy growing season, if the August heat hasn't completely scorched the plants, it is rare for tomatoes to bear fruit through the month of October. This year, we had a steady supply of tomatoes fresh from our garden in June, which was wetter and cooler than usual. Then, production decreased during the heat of the summer before increasing again in the fall. We savored tomatoes from the vine in October, expecting them to be our last.
However, central Texas had an unseasonably warm fall and early winter. In November, we were sharing just-picked tomatoes with friends the week before Thanksgiving. In early December, we anticipated a freeze and picked everything left on the vine: red, orange, yellow, or green. The temperature dipped into the 30's and I assumed the tomato plants would gradually die. I ignored them while we appreciated the gradual ripening of the tomatoes on our kitchen windowsill.
One day in mid-December I went to the compost bin in our garden area and noticed that the tomato vines were alive and still producing! I picked a handful of ripe cherry tomatoes before realizing that there were several large tomatoes developing, as well. We began to pick tomatoes again as they ripened, always expecting them to be the final fruit of the season. Before Christmas, we picked the remaining tomatoes again and our family was thrilled to have tomato salad with our Christmas dinner, an unusual treat! On New Year's Day, anticipating a significant freeze, we picked the remaining tomatoes for the third time. That really was our final harvest from these vines. By the next morning, the plants had frozen and crumpled into gray heaps in the garden beds. But their prolific fruit remains, and we are continuing to enjoy it.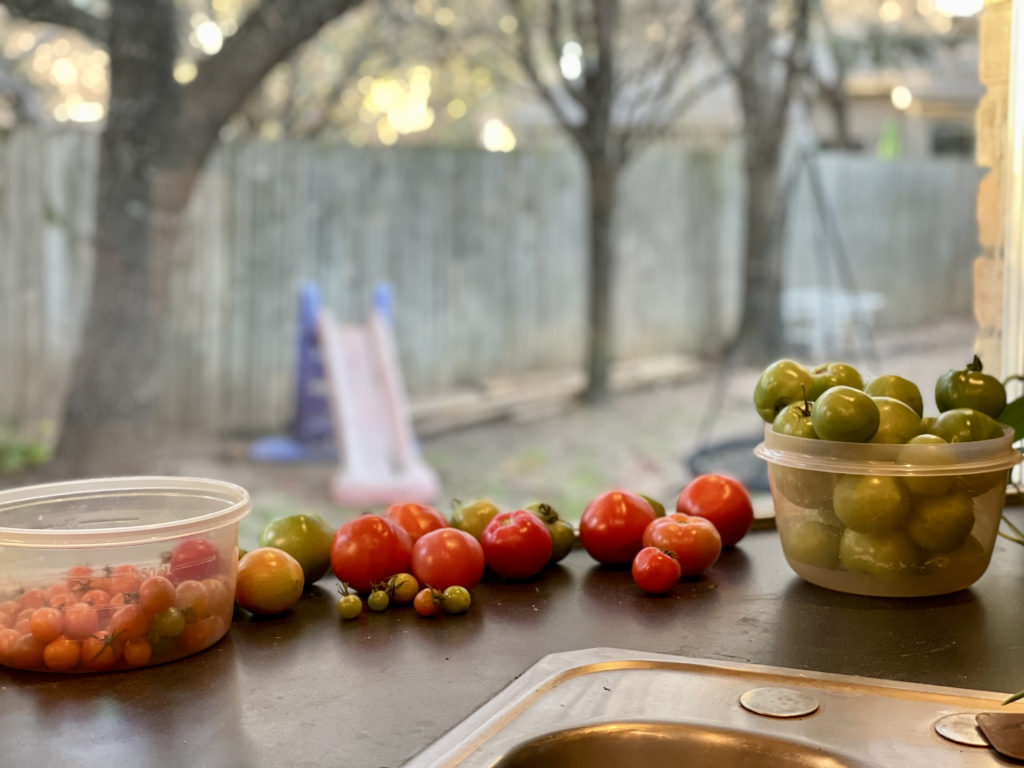 The tomato growing season this year was more than six months long! What an unexpected gift, especially after the way the season began. When our tomato plants were just babies beginning to take root, most of the plants were crushed by hail in mid-April. When I returned to the garden center to purchase more and start again – late in the season – the available plants were much larger, and some were already bearing fruit! I never could have guessed then that I'd still be harvesting from those late-season half-price tomato plants on New Year's Day!
Now it is Epiphany, the understated season following Christmas when we celebrate the revelation of Jesus Christ as the son of God. The tomatoes that surprised me with their abundance throughout Advent and Christmas continue to line our kitchen windowsill and make regular appearances at meals. They are a precious and joy-filled reminder that the mystery of Christmas is not bound by the calendar. The unexpected gift of Jesus, God with us, is not packed away with the Christmas decorations. Jesus, the incarnation of grace, remains with us now and will continue to surprise us. Like Jesus, these tomatoes defied expectations and were not bound by a season on the calendar. And although the plants from which these tomatoes came have died, their fruit keeps on giving. That, in itself, is grace.
While we have enjoyed plenty of fresh sliced tomatoes this year, we have also delighted in the transformation that occurs when the alchemy of herbs, spices, heat, and acid combine to form something new: bruschetta, salsa, pico de gallo, tomato sauce. While tomatoes are essential to each recipe, the other ingredients are indispensable also. What a delicious representation of the community of faith, in which diversity is valuable and essential. When each person shares their unique gifts, we are better together, and we are never the same when one is missing.
Even when the tomatoes are gone, the memory of this unusual growing season will stay with me because these tomatoes have become a means of grace. They served as a catalyst that enabled me to draw near to God and rest in God's abundant provision in my life during a challenging season. Their gradual ripening is a visible reminder of sanctification, the gradual process of moving toward the wholeness that comes with loving God and neighbor. Most of all, these late-season tomatoes have served as a reminder that when we least expect it and all seems lost, grace will break in again and again to nourish and sustain me when I need it most.