When Time Stands Still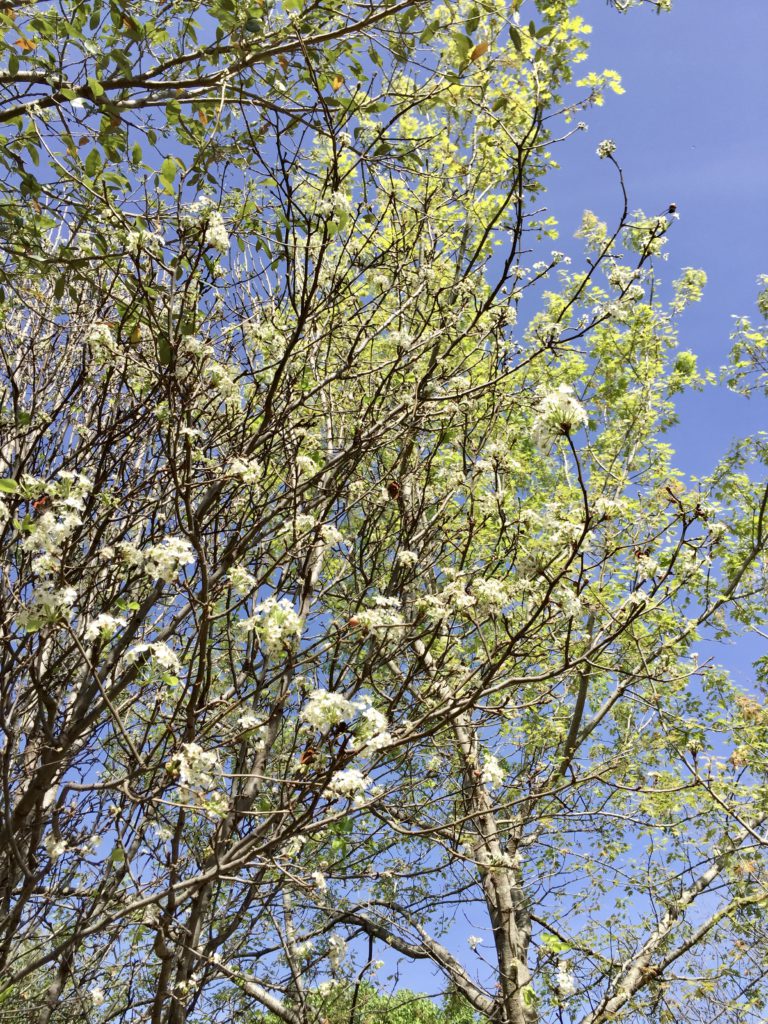 It was Spring Break 2016. Whatever you imagine when you think of Spring Break, let me clarify that I was spending it with a sick toddler. Our 16-month-old daughter had a UTI, which caused her to run a fever of 103-104 degrees for several days. She was miserable and only wanted to be held, so we spent most of our time sitting by the window and looking outside or sitting on our back patio. That week, our only other activity was our daily drive to and from the doctor's office. There was little that I could do beyond comfort her and watch her symptoms for signs that we needed to go to the ER. So, we sat quietly and cuddled while we observed our yard, day after day.
I had planned to catch up on a lot of work that week while our church preschool and other programming was on a break. At first, I was frustrated that I was missing my opportunity to be productive.
As the week went on, I settled into the realization that my "work" was to be present with my daughter. Everything else could wait. That's when something amazing happened: I witnessed the transition from winter to spring in our backyard. I don't mean that I noticed that it began to look like spring outside; I mean that I literally watched the transition occur.
An observant toddler, our daughter was attentive to everything and wanted a closer look at each thing she noticed. As we observed our backyard that week, the trees underwent a transformation. Where at the beginning of the week stood bare silhouettes, buds burst forth into bloom and then leaves appeared. Migrating butterflies visited our yard, feasting on flowers that only the week before were absent. I saw my backyard for the first time. In the four years we had lived in our house, I had never slowed down enough to observe and truly see it, to notice the transformation in each individual tree and plant, the various creatures that call our yard home, whether briefly or permanently.
This "interruption" to my work became a spiritual exercise in slowing down and noticing the work of God in the world around me. Time stood still for me that week. While it was not peaceful or restful to care for a sick toddler, I found that I was able to rest in God in a very profound way. My daughter's rhythmic breathing while she leaned on my chest and her inquisitive interest in the world around her were my teachers. I was changed, transformed alongside the natural world around me, as I spent time in stillness and observed. This work turned out to be far more important than the work I had planned to do that week.
That Spring Break, I learned that I needed to practice slowing down more often, not only at points of crisis, but regularly, as an act of resistance to the never-ending demands on my time.
That was 5 years ago. A lot of life has happened since then: most notably, the birth of our second child, a global pandemic, and a career transition. Sometimes, the tasks of life overwhelm me, and I lose sight of what I learned that week. But I always return eventually to the practice of stillness, quiet, and calm, leaning into the rhythms of the natural world and my own body. When I practice slowing down, I am nourished and sustained; I feel whole and connected to the Holy.
These days, I am spending more time playing and less time working and worrying. I am learning to be led by the weather and the seasons in ways that I never have before, intuitively spending time outside as the natural world beckons me to do so. I continue to observe, watch, and learn as I spend time in God's creation. And I am continuing to learn this from my children as we practice it together. I pray that no matter how busy life becomes as the world re-opens, we hold onto the stillness, the necessity of slowing down, the gifts of respite and rest. Those are the moments when time stands still.